We joined forces with Manhattan Home Design to show you how fascinating Mid Century Modern design and help you learn about the furniture styles they specialize in.
If you're looking to purchase some new furniture pieces for your own space, read on!
The 1940s to the late-1960s was when interior design swept the nation. But at the time interior design defined things like graphic and industrial design and architecture; all going for a specific aesthetic – simplicity in clean lines and sculptural forms.
This was the moment that the phrase "less is more" was born. You'll find a variety of Mid-Century Modern furniture like the one we'll be talking about today on Manhattan Home Design's site and showroom.
Form, light, and space defined many Mid-Century homes' architecture. These homes also featured high ceilings and lots of open spaces; it was all about sleek and modern designs. Stone, brick, and wood were the most popular materials at that time.
Some notable Mid-Century Modern architects included people like Richard Neutra, Eero Saarinen, John Lautner, Paul Revere Williams, and Joseph Eichler.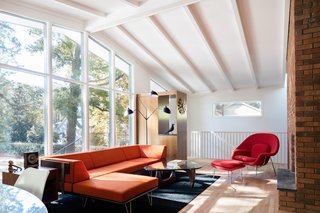 When it came to furniture, the new designs boasted sleek and sculptural forms that were all about physical ergonomics. The common thought was that furniture design should focus on and complement the human body, to provide comfort by all means.
It's amazing how Manhattan Home Design stays true to this with their replica pieces!
Another Mid-Century Modern furniture feature is innovative materials like plywood, fiberglass, Plexiglas, and tubular steel, and fabricating techniques, which helped create unique shapes of many of the furniture pieces inspired in this era. Think of the world-famous Eames Lounge Chair by Charles and Ray Eames, Manhattan Home Design's replica is amazing.